Confédération des syndicats nationaux
The CSN was founded more than 100 years ago. Its first major struggle was led by women working in the match-making industry in the Ottawa-Gatineau region, at a time when most unions were not interested in organizing women workers.  Today, a hundred years later, the CSN is made up of nearly 1,600 unions. Today, the CSN provides a wide range of services and supports to more than 330,000 members across Canada. With our affiliation with the CSN The Toronto Hospitality Employees Union (THEU-CSN) is able to provide its membership with superior services. Our agreement with the CSN gives us access to unparalleled services, all of which are included with our union dues.
Although the THEU is autonomous, that does not mean that we are alone.
THEU is affiliated with the CSN. CSN stands for Confédération des syndicats nationaux (Confederation of National Trade Unions) – one of the largest trade union federations in Canada, with more than 330,000 members. 
The word "confederation" is important because it is at the centre of what the CSN offers its member unions – including the THEU. We are autonomous, but we also work together and support one another. 
Each of the CSN's more than 1,600 member unions has full control over their own legal rights, bargaining priorities, finances, and more. At the same time, as members of the confederation, we are all able to access a wide range of services and supports to help us achieve the goals decided upon by our members. 
It truly is the best of both worlds – local autonomy for hotel and hospitality workers in Toronto, backed up by the power that comes from a democratic organization with hundreds of thousands of members.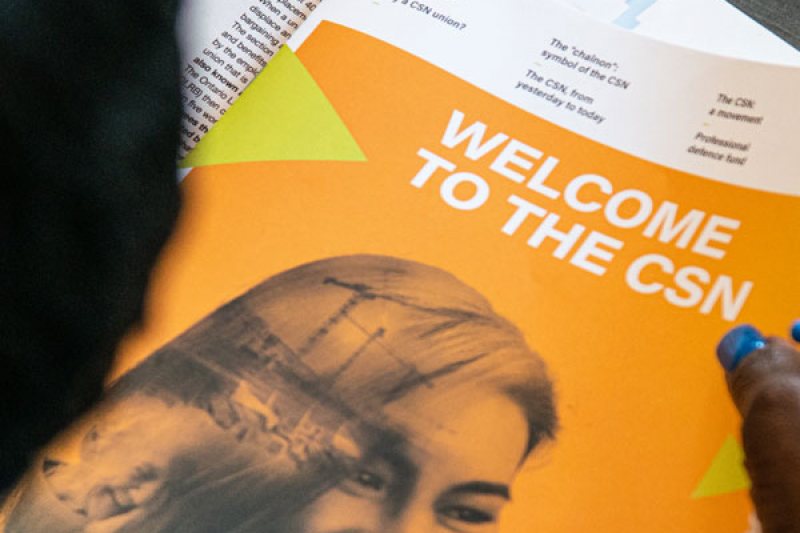 What does the CSN provide to its affiliated unions?​